Make online withdrawals in-store!
You now can withdraw from your online wallet at any Lottery retailer using the Virginia Lottery app! Just follow these steps.
Open the Virginia Lottery app, and log in to your account.
Tap your initials in the top left corner to open "My Account."
Tap "Withdraw."
Tap "New Withdraw."
Under "Select Withdraw Method," tap "Withdraw at Retail."
Enter the amount you'd like to withdraw, and tap "Submit."
Allow up to two (2) business days for your withdrawal request to process. Prizes over $100 may require additional documentation to prove your identity.
To view your available vouchers, follow steps 1-3 above.
Then, tap "View" next to your approved withdrawal voucher.
Present the voucher on your device's screen to any Virginia Lottery retailer. The retailer will scan the voucher and give you your winnings.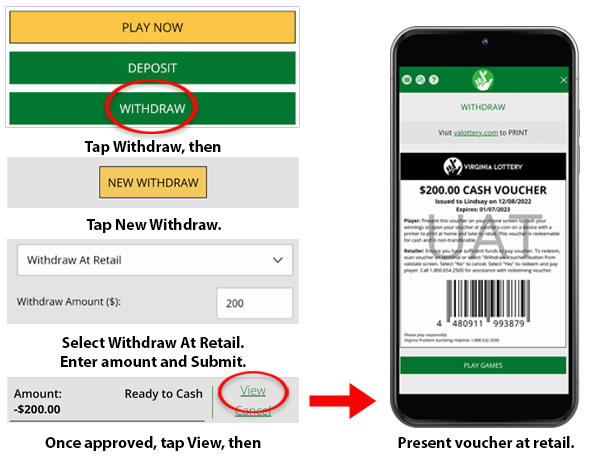 Details
The maximum amount for any withdrawal voucher is $250.
The maximum number of vouchers that can be cashed out in one day is five (5).
The amount any Lottery retailer can cash out is dependent upon the cash funds the retailer has available. Not all retailers will be able to cash out the maximum daily amount of vouchers.
Most vouchers will be ready to redeem within an hour. Some may require additional review, but will take no more than two (2) business days.
Your voucher will expire 30 days after it is approved. If not redeemed within that time frame, the funds will be returned to your online wallet.
You also can request and find your withdrawal voucher(s) on your laptop or desktop device here at valottery.com. You then can print them out at home to cash out at retail. Here's how to locate your voucher(s).

Log in to your valottery.com account.
Click "My Account" in the top menu.
Click "Withdraw."
Click "View" next to your approved voucher.
Click "Print."
Present your printed voucher(s) at any Virginia Lottery retailer to cash out your winnings.
Contact
Questions? We're here to help! Call (804) 420-9584 for Online Support.