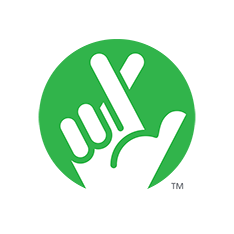 Lottery Performs
Lottery Performs
Since 1988, the Virginia Lottery's goal has been to produce fun games that players would enjoy. When players have fun, sales continue to increase and more profits can be turned over to the Commonwealth. Since 1999, 100% of the Lottery's profits are transferred to public education, K-12.
To lead the Lottery into the future, teams of employees have developed a long-term strategy. These efforts will help ensure successful implementation of the Lottery's mission, vision, and strategy statement.
FY24 Strategy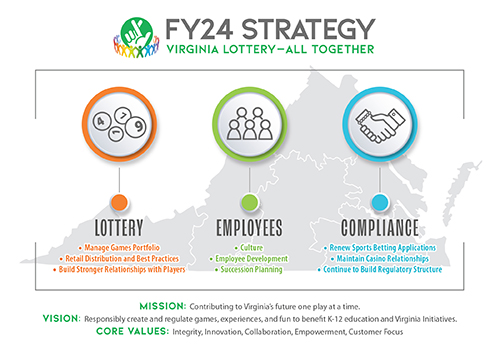 Core Values
To establish the foundation for achieving the three strategic goals, Lottery employees identified five core values that form the foundation of all its activities. Core values represent the basic, shared beliefs that govern individual and group behavior at the Lottery. They define and represent the way things get done. These core values will be reflected in everything the Virginia Lottery does and in how its employees deliver service. Core values remain stable over time and include Collaboration, Customer Focus, Empowerment, Innovation, and Integrity.
Collaboration
We have a passion for working closely with each other, customers, partners and other stakeholders, regardless of location or department, to achieve the Virginia Lottery's goals and objectives as a team. Working together effectively includes listening to what others say with respect and understanding; engaging in two-way communication and dialogue; providing support and encouragement to each other; and sharing ideas, knowledge and resources freely for the common good.
Customer Focus
We are dedicated to meeting the expectations and requirements of our internal and external customers. We get first-hand customer information and use it to improve our products and services. We act with the customers in mind, while establishing and maintaining their respect and trust.
Empowerment
Everyone at the Virginia Lottery understands our strategy, goals and objectives. Everyone is willing and able to take appropriate, strategy-focused action independently and proactively when they see the need. Each of us has the power to make decisions that will positively affect business results. All of us participate by actively sharing critical information, ideas and opinions to make the strategy a reality.
Innovation
We combine our knowledge of customer needs, current and future marketplace trends, industry best practices and advances in technology with our passion for creativity. The outcome is the proactive development of new and improved Lottery products and services, partnerships and ways of doing business. Our focus on innovation translates into opportunities for personal growth for our people, increased customer satisfaction and enhanced financial benefits for Virginia's public schools.
Integrity
Acting with integrity means that we are honest and trustworthy in every interaction with our customers, partners, stakeholders and each other. It also means that we do what we say we are going to do when we say we are going to do it. This responsibility and accountability for individual and team performance are standards we all live by. All of us understand that acting with integrity is critical to maintaining the public trust and confidence required to ensure transparency and security at the Virginia Lottery.