Online Cash
Online Cash is an easy way for players to deposit money into their online valottery.com accounts without entering debit card or bank-account information online.* Available for $10, $20, $50 or $100, an Online Cash voucher can be purchased at any Lottery retailer. See our Online Cash FAQ below for more details.
Getting Started with Online Cash
Purchase Online Cash at any Lottery retailer and start playing online games from anywhere in Virginia right from your mobile device or computer.
Purchase at a Virginia Lottery Retailer

Option 1: When at a Virginia Lottery retailer, tell the clerk that you'd like to purchase an Online Cash voucher for either $10, $20, $50 or $100. Purchase with cash or debit card.
(Debit card use for purchase of Lottery products is up to retailer's discretion).

Option 2: At retailers with a Lottery Vending Machine, you can select "Online Cash" at the top of the vending machine's screen. Select the amount of Online Cash you'd like ($10, $20, $50 or $100), and purchase the voucher with cash or debit card.
Redeem Online

Step 1: Register for an account or log in at valottery.com on any mobile device or desktop computer in Virginia.

Step 2: Select "My Account," and then select "Deposit."

Step 3: On the "Select Payment Method" screen, select "Online Cash," and then enter your Online Cash voucher code.
Use your new wallet balance to buy your Mega Millions, Powerball and/or Cash4Life® tickets. You also can play our new online instant games that are similar to Scratchers with interactive and exciting features!
Contact
Questions? We're here to help! Call (804) 692-7000, and select Option 3 for Online Support.
*Players can add a Visa® debit card, bank account or PayPal® account to withdraw winnings. Or, a player can withdraw winnings at a Lottery retailer.
DISCLAIMER: The purchase of Online Cash is nonrefundable. Online Cash can be used only for transactions at valottery.com. Some restrictions apply to Visa debit card withdrawals. Online Cash is not eligible as a deposit method when redeeming a bonus offer. Contact customer service for more information.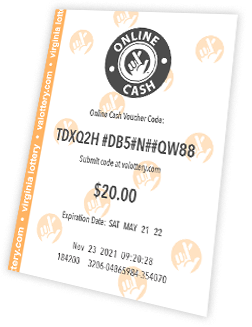 Online Cash FAQs: