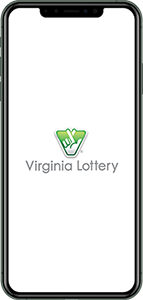 APP CHANGES
App players read below for important changes coming soon.
Play Online Starting July 1
What's Happening?
Starting July 1, 2020, the Virginia Lottery will start selling Lottery products to any adult in Virginia at valottery.com. This will come with changes to the existing Virginia Lottery app.
Starting June 29, 2020, all wagering functionality via MobilePlay in the Lottery app will be removed. All players with wallet balances in the app will have their funds transferred to the new system by July 1.
The best news? You don't have to do a thing!
On July 1, your wallet and any funds in it will be available for play right from your phone at valottery.com. Just log into your account with the same email and password you use in the app, and you will be able to play from anywhere in the Commonwealth. If you already have an online subscription account, your MobilePlay funds will be added to that so all of your funds will be in the same place. You will be able to continue to purchase subscriptions and instant win games, but will be from the same wallet!
You can continue to play in and withdraw your winnings from the app up to June 28th, when all funds will be migrated to the new system where they will be available to you July 1st.
Important Dates
If you are a MobilePlay player with funds in the app, please keep the following dates in mind.
June 23 - Last day to deposit in the app.
As part of the transition to allow wagering anywhere in Virginia, we will turn off the ability to deposit in the app on June 23. You will still be able to wager with your remaining wallet balance.
June 28 - Last day to wager and withdraw winnings from the app.
If you have winnings in the app, you can continue to withdraw them until June 28.
June 29 - Wagering and withdrawals suspended in the app.
From June 29 to June 30, wagering from the app will end and you will no longer be able to withdraw winnings while we transfer your funds from the app to the new system at valottery.com. If you already have an online subscription account, your MobilePlay funds will be added to that so all of your funds will be in the same place.
July 1 - Online sales begin at valottery.com.
On July 1, your wallet balance in the app will be available in your valottery.com wallet when you log in. You'll be ready to play and withdraw your winnings immediately!
If you have questions or need assistance with your account, please use our contact form, or contact customer service at 804-692-7777.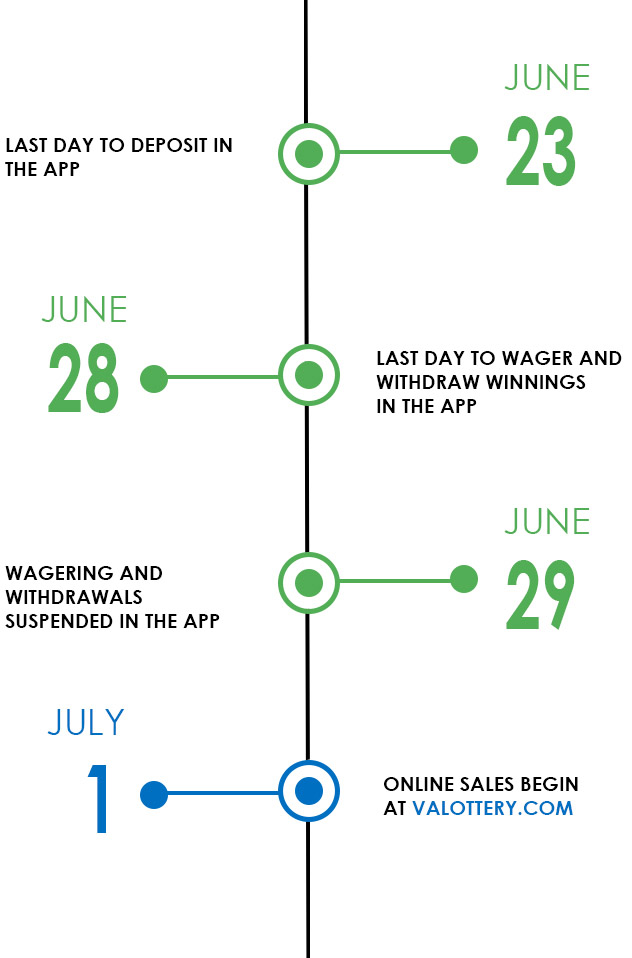 FAQ
Why not have wagering on both the app and the website?
The Virginia Lottery app was developed to use a Bluetooth® signal to place wagers via mobile device at a Virginia Lottery retailer. Work is underway to update the app to support online wagering, but it will not be completed by July 1. In the meantime, playing online at valottery.com on your mobile device will allow you to play anywhere in the state of Virginia.
What will I be able to do in the app after July 1?
The app will continue to have all your favorite features such as scanning a ticket to see if it's a winner, checking winning numbers, signing in to enter promotions such as eXTRA chances and more!
I have an online subscription. What will happen to that?
Your subscription will continue unchanged. Simply log in when it's time to renew and select the number of future draws you would like for your subscription. You also can turn on Auto-Renewal for new subscriptions to avoid having to repurchase your draws each time they run out.
What Lottery games will be available to play online on July 1?
On July 1, we will launch with Mega Millions, Powerball, Cash4Life® and all new instant-win games. We will release new instant-win games each month and have plans to bring other draw games online in the coming year.