Summer 7s Raffle - 504005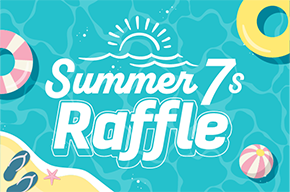 Summer 7s Raffle
Odds per Ticket: 1 in 19.03
Odds of Winning Top Prize: 1 in 20,000
Players now can purchase a ticket for Summer 7s Raffle, an online-only raffle full of sizzlin' fun. The raffle is all about 7s: Each ticket costs $7, and there are 1,000 $70 prizes, 50 $700 prizes and one $7,000 top prize per drawing! There are only 20,000 tickets available per drawing, so don't miss the chance to get a ticket. Once all the tickets are sold, the drawing will happen immediately!
How To Play
The Summer 7s Raffle has ended, so there will be no additional drawings. Keep on the lookout for other online raffles in the future.
The drawing that tickets are currently being sold for will be the final Summer 7s Raffle drawing.
Summer 7s Raffle is an online-only raffle that is available for a limited time.
Here's how it works.
Each ticket costs $7 and cannot be canceled.
Each ticket has a unique ticket number and is issued in sequential order as sold.
Players must match their exact ticket numbers to those drawn by the Lottery to win.
Immediately after all 20,000 tickets have been sold, an automated drawing will be conducted.
If all 20,000 tickets are not sold, an automated drawing will be conducted approximately six months after the date and time that tickets become available for purchase.
Once a drawing is complete, the Lottery will post the winning numbers by the end of the next full business day.
Winning tickets and prizes will be shown in a player's online account and will either be added instantly or available for claim submission.
Once a drawing is completed, the fun starts all over again, and you can buy tickets for the next drawing. The rules and prizes stay the same, but there's a new chance to win!
| | | |
| --- | --- | --- |
| Prize | # of Winners | Odds (1 in) |
| $7,000 | 1 | 20,000 |
| $700 | 50 | 400 |
| $70 | 1,000 | 20 |
Please see Online-Only Raffle Rules for more details.
Odds per Ticket and Top Prize odds are based on selling 20,000 tickets per drawing.
Raffle Winners
Draw Date : 6/27/2023 9:00:22 AM
Draw Date : 6/12/2023 5:27:51 PM
Draw Date : 6/9/2023 12:01:38 AM
Draw Date : 6/3/2023 10:44:29 AM