A chance to earn 500 points for 7REWARDS® members!
See how you can earn 500 points when purchasing a Super 777s Scratcher at 7-Eleven.
Check out the details on this exciting opportunity!

The Virginia Lottery is partnering with 7-Eleven to bring a chance to get 500 points to the chain's rewards members. When a 7REWARDS® member purchases a Super 777s Scratcher and scans the member's rewards app barcode at checkout, the member can earn 500 7REWARDS® points. The offer is available until May 24, 2022.
The $5 Super 777s Scratcher is a member of the four-game 777s family that launched in January. Super 777s gives players 19 chances to win on each ticket. A player could win up to $177,777 playing Super 777s!
Players must be 18 or older to purchase the $5 Super 777s Scratcher. This bonus offer is valid for one transaction per day.
Odds of winning top prize in Super 777s: 1 in 1,632,000.
Odds of winning any prize in the eXTRA Chances promotion depend on the total number of entries received.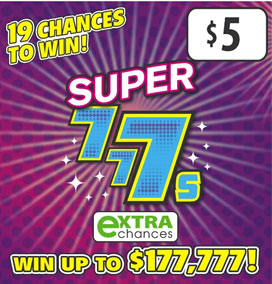 ---
Last updated: 4/22/2022