How do Lottery Ticket Checkers work?
Virginia Lottery Ticket Checkers read your ticket's barcode and send the information to a central, digital system to confirm whether or not the ticket is a winner.
Lottery Ticket Checkers do this in a fraction of a second. You won't have to wonder about whether or not you won. You can get the information and move on. 
Below, you'll find tips on where to safely scan your Lottery tickets plus other best practices to guarantee that only you can claim any prize you win.
Checking your Lottery ticket at a retailer
There are three ways to check your ticket at an authorized Lottery retailer.
1. Scanning on the Ticket Scanner Plus
The Ticket Scanner Plus is located on countertops in Virginia Lottery retailers that do not have a Lottery Vending Machine.
Scan your ticket at the Ticket Scanner Plus, and, within seconds, the status of the ticket (winner or not) will be revealed.
If the winnings exceed $600, the player will be notified to visit a Customer Service Center to collect the winnings.
If the ticket is not a winner, the Ticket Scanner Plus gives the player a message: "This ticket is not a winner".
If you can't find the Ticket Scanner Plus, please ask the clerk for help.
2. Use the Lottery Vending Machine.
You can find Lottery Vending Machines at most Lottery retailers throughout Virginia.
Consider them your gateway to accessing and playing all Lottery games including:
Lottery Vending Machines have intuitive touchscreens that take you through each step of how to use them. For printed games, such as Scratchers, the Lottery Vending Machine also features a built-in ticket checker. Simply scan your ticket to see if you're a winner!
If you win a prize under $600, the screen will ask if you want to apply or not apply your winnings to another purchase. When you apply your winnings on the Lottery Vending Machine, you can select new games to play. For prizes over $600, you will need to claim your prize at a Virginia Lottery Customer Service Center or Prize Zone. You also can claim your winnings through the mail. For more details, refer to our Claim a Prize instructions.
3. Have the retailer scan the ticket.
Lottery tickets can be scanned directly at counters at Virginia Lottery retailers. 
Here's how it works.
Hand your ticket to the ticketing agent at the appropriate counter.
The agent will scan your ticket or manually type in the barcode.
The agent will communicate if you're a winner or not. 
If you win, a machine will print a ticket showing the prize amount.
Make sure to sign every ticket after purchase. Lottery tickets are bearer instruments, which means that whoever possesses the ticket can claim it. Signing your ticket ensures you're the only bearer eligible to claim its prize.
Note that whether or not a Lottery retailer can immediately pay out cash winnings under $600 will vary. Retailers unable to pay out your winnings in cash are allowed to offer checks or money orders instead.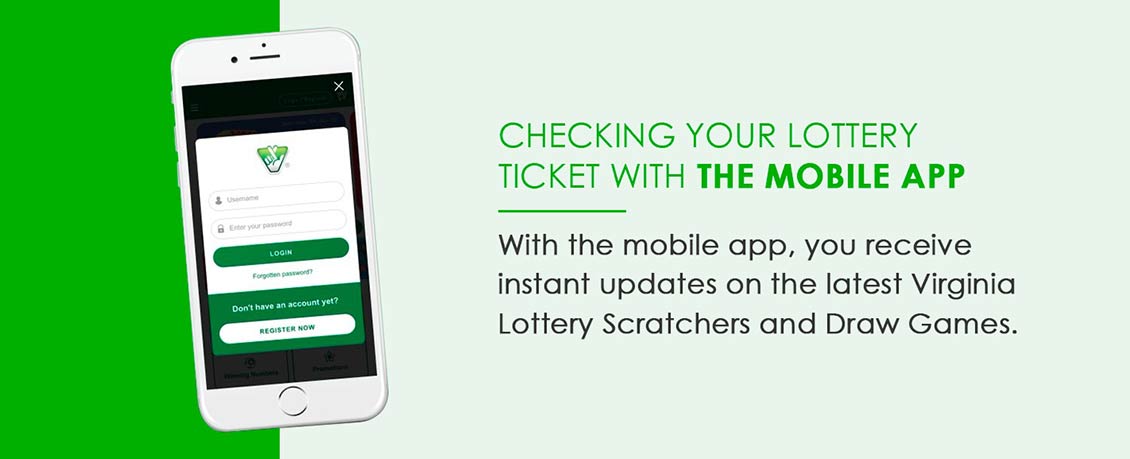 Checking your Lottery ticket in the mobile app
Did you know you can check your Virginia Lottery ticket in the official Virginia Lottery mobile app?
The app provides a quick and convenient way to see if you've won. After you take a picture of your ticket, the app instantly checks the ticket's barcode and determines if it's a winner using a built-in technology. 
Other benefits of using the app include:
Entering unique promotions such as eXTRA Chances. 
Creating digital playslips.
Receiving instant updates on the latest Virginia Lottery games. 
Finding your closest Virginia Lottery retailer.
How do Lottery Ticket Checkers determine if your ticket is a winner?
Every Lottery ticket has a unique barcode. All Lottery Ticket Checkers — whether at a Lottery Vending Machine, on our app or at a retailer's counter — contain barcode-reading technology that allows them to instantly register your ticket's barcode ID. The checker then sends that barcode-based ID to Virginia's central registry. Within a matter of seconds, the registry confirms if the ticket is a winner or non-winner by matching the barcode ID with its list of winning numbers, which updates daily.
The entire process takes seconds. Lottery Ticket Checkers are reliable as long as they maintain a secure internet connection. 
Once scanned, a Lottery ticket is claimed. The in-store Ticket Checker notifies customers if a ticket has already been cashed or claimed. Other people cannot turn in fake or duplicate tickets containing an identical barcode ID.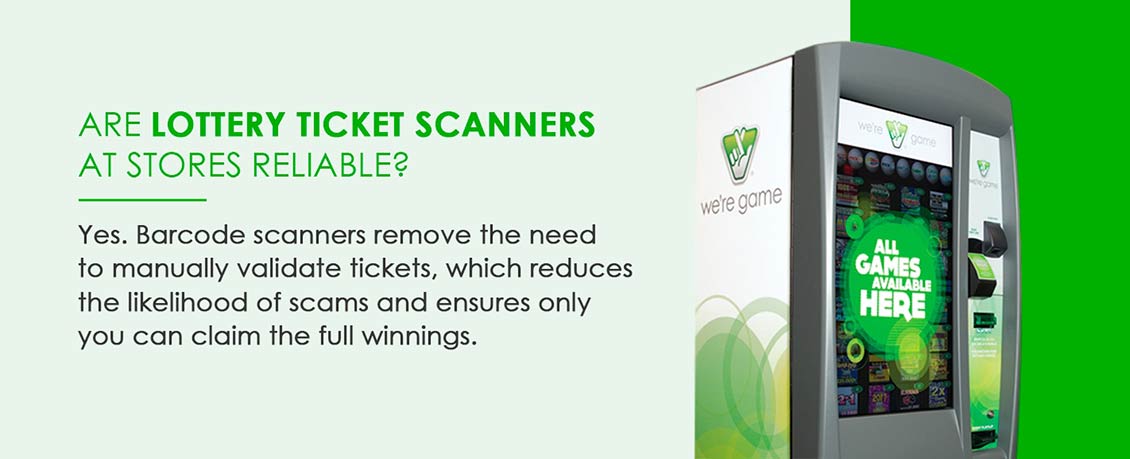 Are Lottery Ticket Checkers at stores reliable? 
Yes. Barcode scanners remove the need to manually validate tickets, which reduces the likelihood of scams. 
Keep these tips and best practices in mind when playing Lottery games, so you can maximize security. 
Sign your ticket immediately after purchase. This makes the ticket yours. No one else can use or claim it. 
Double-check your entire ticket. Make sure it's for the exact game and drawing you want and has the numbers you selected. 
Always ensure a ticketing agent clearly scans your ticket's barcode with a proper barcode-reading device.
If you don't want someone else to scan your ticket, opt for self-scanning technology that can be found at Virginia Lottery Vending Machines or in the Virginia Lottery app.
Do not post pictures of your ticket on social media. Also, do not give your ticket to anyone else. Keep it in your possession at all times or in a secure location until you're able to claim your prize.
---
Last updated 5/29/20