2106-1000000 Platinum Jackpot
$1,000,000 Platinum Jackpot #2106
Odds of Winning Overall: 1 in 3.92
Odds of Winning Top Prize: 1 in 1,632,000
Prize Amount
Winning Tickets

At Start

Winning Tickets

Unclaimed

$1,000,000*
3
1
$10,000
6
2
$500
2,325
953
$100
35,291
14,394
$60
21,628
8,793
$50
176,564
71,951
$30
258,982
106,190
$20
235,393
96,985
$10
470,934
196,368
Explore what the Lottery has to offer!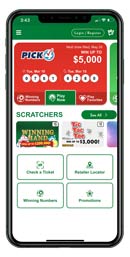 Did you know that the Lottery has a mobile app? The Lottery app allows you to check whether or not your ticket is a winner, see past winning numbers, view current Scratchers in the market and create a digital playslip to purchase your ticket at retail. The app offers you tons of Lottery information right in the palm of your hand.
Opening an account on valottery.com unlocks exciting features too! A valottery.com account allows you to play Lottery games online (such as any of the online instant games in our library plus Mega Millions, Powerball and Cash4Life®) and enter promotions such as eXTRA Chances. eXTRA Chances gives you the chance to enter non-winning Scratchers into a weekly drawing for a prize that changes regularly. Check out the app, or consider opening an account on valottery.com today. You can unlock more information and maybe another chance to win!